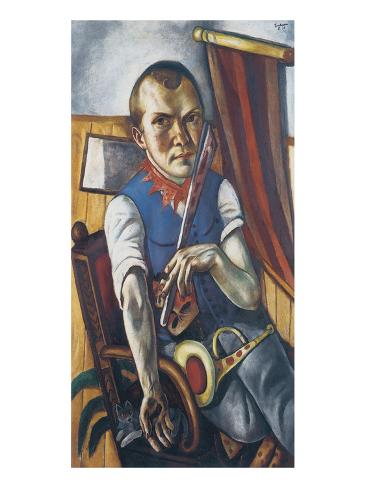 br>
Self-Portrait Dressed as a Clown, by Max Beckmann

Max Beckmann was born on February 12, 1884 in Leipzig, Germany.
Known as an Expressionist painter, Beckmann painted figurative narratives and allegories at a time when his fellow German artists were experimenting with abstraction. He rejected non-representational art. He often included himself in his paintings of carnivals, parties and of course his self-portraits. His paintings were quite moody. Some of my favorite paints that he did were his self-portraits. There was something so culturally German about them.
Beckmann's work was affected by both world wars. In World War I he worked in the medical corps and thrived to a degree on the chaos and turmoil of war. During the time period of the Second World War, he was affected by Hitler's rise to power. He became known as a degenerate artist, was attacked in the National Socialist Press, and in 1933 he lost his teaching position at Frankfurt's Städel Art School and moved to Berlin. In 1937 his work was included in Entartete Kunst, the Nazi exhibition of degenerate art which was held in Munich. He left for Amsterdam the day after that exhibition opened, where he stayed until 1947, when he immigrated to the United States.
During the last three years of his life, he taught at the art schools of Washington University in St. Louis and the Brooklyn Museum.
Beckmann died on December 27, 1950, in New York, New York.
Work a lot … simplify … use lots of color…make the painting more personal.– Max Beckmann
You can read more about Beckmann and his life on Wikipedia.
Learn more about Max Beckmann through these titles on amazon: