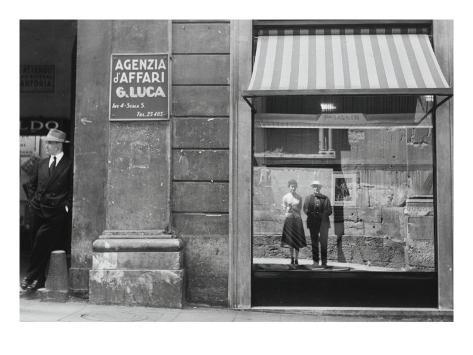 Brassaï et Gilberte à Genova
Brassai – a nickname meaning "from Brassó" – was the pseudonym of the Hungarian photographer whose given name was Gyula Halász. He was born on September 9, 1899 in Brassó, Kingdom of Hungary (it's now in Romania). He is known as a photographer but was also a writer, sculptor, and filmmaker. He studied painting and sculpture at the Hungarian Academy of Fine Arts – Magyar Képzőművészeti Egyetem – in Budapest. He also served in the cavalry in Austro-Hungarian army in the First World War.
After the war, Brassai went to Berlin and worked as a journalist and then moved to Paris in 1924 where he befriended Henry Miller and the artists living in Montparnasse. Although, Miller later downplayed the friendship. Braissai often wandered the streets of Montparnasse at night, capturing images, some of his most famous ones in the quiet of the street lamps, of prostitutes, streeet cleaners and other characters of the night. Many of these images became part if his first printed collection of photographs in a book called Paris Nocturne. And while he was famous for capturing the gritty bits of Parisian life, he also made many portraits of his artist friends and intellectuals living in Paris.
Brassaï died on July 8, 1984 at his home on the French Riviera, in Beaulieu-sur-Mer, near Nice.
You can read more about him in his bio on Wikipedia.
You can read about and see more of Brassai's work: