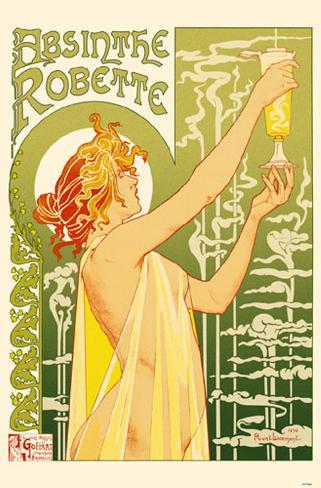 Decadent. Mysterious. Bohemian. Dangerous. Romantic. Addictive. Poison.
All are words used to describe that green devil of a drink, Absinthe.
Its romance these days lies more in the fact that it is a banned substance in many countries of the world. Its reputation as an hallucinogenic crazy-maker, leading to the imagined downfall of late 19th and early 20th century French society, made it illegal to drink the liqueur by 1915. The ban spread through most countries in the world, and until recently, when new recipes were developed, it had become more of a legend than anything else.
But, Absinthe was the drink of choice in the bars and cafes of 19th century Paris. For many years it was only affordable to the bourgeoisie, but as prices came down in the 1880s, it became the drink of choice for the general public. Artists and writers didn't necessarily wait for the daily l'heure vert – the 5pm 'green hour' – to indulge themselves, using it, probably unwittingly at first, as a tool to loosen their mind and expand their creativity. It was said to be easily addictive and not easy to recover from.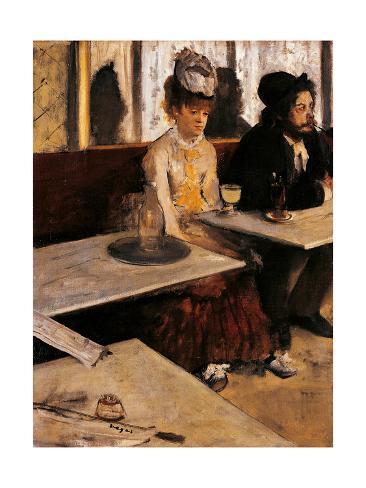 br>
Absinthe Drinker, by Edgar Degas
Absinthe was originally developed in Switzerland in the late 18th century as a medicinal elixir. Its intoxicating effects are derived from its main ingredient, Artemisia absinthium, commonly known as wormwood. Its flavor is bitter with a taste of anise. In its heyday, the most popular brand of absinthe worldwide was Pernod Fils. Absinthe is often referred to as la Fée Verte, I think not only because of its coloring – typically pale or emerald green – but also because of the magical essence of the drink.
To drink absinthe, pour a bit of absinthe in a glass. Place a slotted absinthe spoon over the glass and put a sugar cube on it. Drip ice cold water over the sugar cube allowing it to dissolve in the glass until the absinthe is diluted about 4 parts water/1 part absinthe. The dilution of the drink by the water makes it cloudy.
After the first glass, you see things as you wish they were. After the second, you see things as they are not. Finally, you see things as they really are, and that is the most horrible thing in the world. — Oscar Wilde
Source information from Wikipedia.