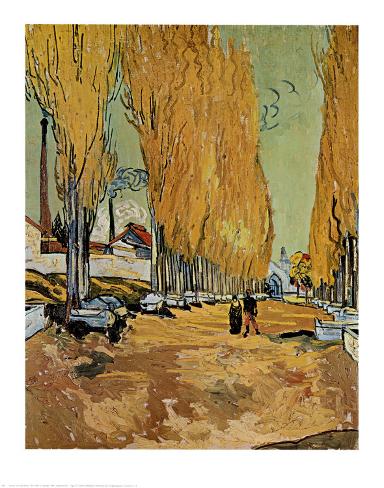 br>
Les Alyscamps, by Vincent Van Gogh
Walking down the wide, poplar tree-lined path that leads through what is now a sort of jardin, I couldn't help but notice that the place had not changed in the hundred years since Van Gogh painted this tableau. The Roman sarcophagi that now line both sides of the avenue lay empty, some lids askew, some missing altogether, emptied and desecrated by Renaissance and later tomb-raiders throughout the centuries that came before my time here.
Les Alyscamps is an Occitan name that can be translated into Elysian Fields. It has been said that miracles happened here, ones granted by the beheaded civil servant-made-saint, Saint Genesius, who was executed and entombed here after refusing to write the Roman law of Christian persecution in 250 AD. It was also the burial place of Saint Trophimus, until he was moved to the cathedral in 1152. By the 4th century there were well over several thousand tombs on the site and Les Alyscamps was the most desirable place in France, if not one of the very few places in Europe, to be buried – until probably around the 12th century. Devout Christians had their stone coffins and remains shipped down the Rhône to be laid to rest here. The monks of Arles escorted the departed from the docks to their final resting place here on hallowed ground.
But things change, as all things do. The stone sarcophagi, once emptied, were taken to build Arles, and the ones that remained were stacked and tossed neatly on either side of the avenue where they sit to this day.
Saint-Honorat, the only church building of the nineteen that used to be here, still stands, empty, devoid of both life and death. In the day, its tower held an eternal lantern to light the way, for both the living and the dead. Now, there is a real quiet beauty here, in the architecture of this space. Rounded arches made of heavy stone intersect above, while the stone floor is sunken in places with puddles of water. This place begs, no demands, a kind of quiet and thoughtfulness that is rarely, if ever, felt in modern architecture.
From French to English
le jardin: the garden
le tableau: the painting