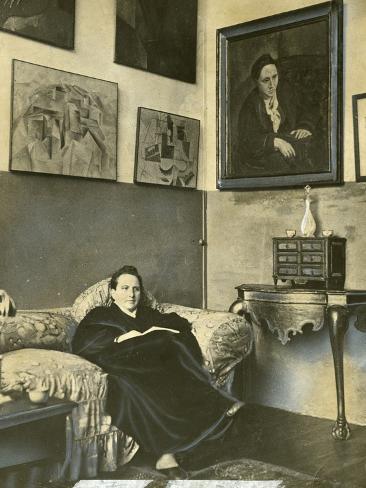 br>
Gertrude Stein Sitting on a Sofa in Her Paris Studio, 1930
Gertrude Stein was born on February 3, 1874, in Allegheny, what is now considered the Northside of Pittsburgh. She grew up in Oakland, California (the family home was on a ten-acre lot!) and is locally known as the person who said, "There is no there, there." She is also known for her phrase, "A rose is a rose is a rose is a rose."
In 1903 she moved to Paris where she lived for the rest of her life. She became an art collector, curator, and patron of many of the writers and artists of the day. She hosted a Paris salon, in her home at 27 rue de Fleurus, where the leading figures of modernism in literature and art, such as Pablo Picasso, Ernest Hemingway, F. Scott Fitzgerald, Sinclair Lewis, Ezra Pound, Sherwood Anderson and Henri Matisse, would meet regularly.
From 1903 until 1914, when they dissolved their common household, Gertrude and her brother Leo shared a two-story apartment with an adjacent studio near the Luxembourg Gardens on the Left Bank of Paris, which was located on the interior courtyard at 27 rue de Fleurus. Here is where they accumulated the works of art that formed a collection that became renowned for its prescience and historical importance – it included works by Cezanne, Gaugin, Renoir, Matisse, Bonnard, Daumier, Picasso, and Toulouse-Lautrec, among others. Her Wikipedia page give a great account of their collection and how it was divided when Leo decided to move to Florence in 1914.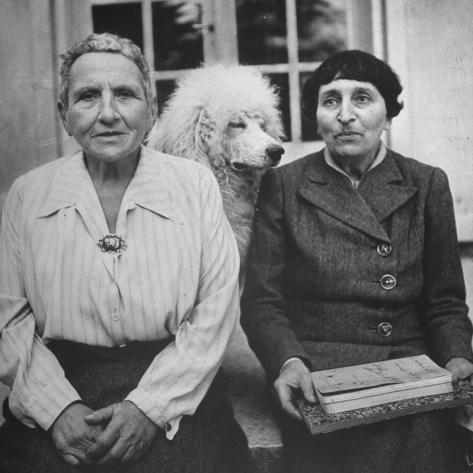 br>
Author Gertrude Stein Sitting with Alice B. Toklas at a Villa by Carl Mydans
She is also known for her lifelong partnership with Alice B. Toklas.
Stein died on July 27, 1946, in the American Hospital of Paris, Neuilly-sur-Seine, France. Her grave is at Pere Lachaise Cemetery, not far from Oscar Wilde's.