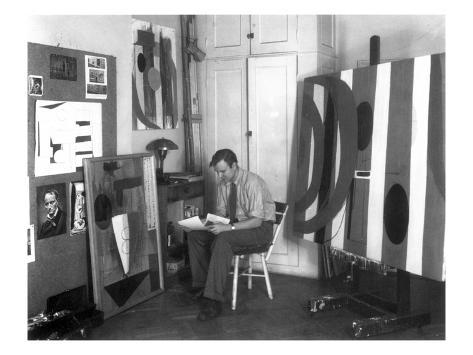 Robert Motherwell was born on January 24, 1915, in Aberdeen, Washington.
Motherwell was an American Abstract Expressionist painter, a printmaker, and an editor on the Documents of Modern Art series of books. He was one of the youngest members of the New York School, which also included Philip Guston, Willem de Kooning, Jackson Pollock, and Mark Rothko.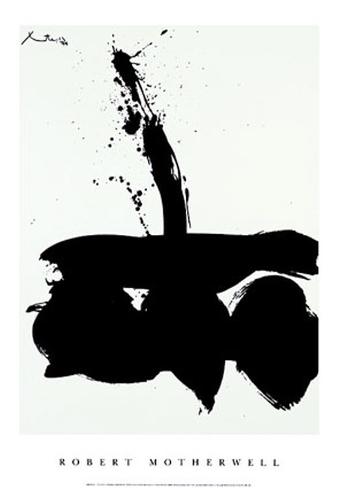 br>
Samura N.1, c.1974 by Robert Motherwell
Motherwell was well educated in studio art as well as art history. He studied art on a fellowship to the Otis Art Institute in Los Angeles, and in 1932 studied painting briefly at the California School of Fine Arts in San Francisco. Motherwell received a B.A. from Stanford in 1937 and enrolled for graduate work later that year in the Department of Philosophy at Harvard. His travels took him to Europe in 1938 for a year of study abroad and in 1941 he went to Mexico for six months. In September of 1940, Motherwell finally settled for a bit in New York, where he entered Columbia University to study art history with Meyer Schapiro, who encouraged him to become a painter.
His work was very intuitive and he came to abstraction not through painting, but through philosophy. His paintings were not happy accidents, Motherwell's work expresses his philosophical thoughts and ideas. That's the thing that I love about Motherwell's work – it's not just about abstract painting, but philosophy, art history, poetry, politics, thoughts and ideas, and the passing of time. While some people don't understand the work of the Abstract Expressionists, and think that it is just paint thrown at a canvas, or shapes, or layers of color, it is more than that. Motherwell's work encompasses the depth of life. All it takes is a visit to an art museum to stand in front of one of his large black and white paintings, like Elegy to the Spanish Republic, No. 57, 1957-1961 at SFMOMA, to sit with it for awhile and let it take you over.
To paint, not the thing, but the effect it provides — Mallarme
Lise Motherwell Remembers Robert Motherwell:
He passed away on July 16, 1991, Provincetown, Massachusetts.
Check out some of the titles below on amazon – to learn more about Robert Motherwell and his work: