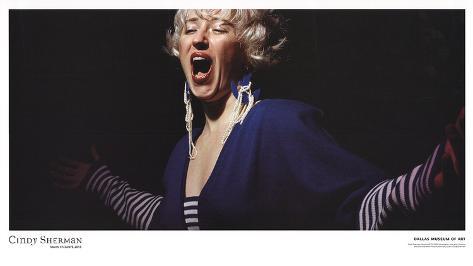 br>
Untitled #119
Cindy Sherman was born as Cynthia Morris Sherman on January 19, 1954 in Glen Ridge, NJ. She is an American artist whose work consists exclusively of photographic self-portraits, depicting herself in many different contexts and as various imagined characters.
In 1972, Sherman enrolled in the visual arts department at Buffalo State College, where she began painting. During this time, she began to explore the ideas which became a hallmark of her work: She dressed herself as different characters, cobbled together from thrift-store clothing. Frustrated with what she saw as the limitations of painting as a medium of art, she abandoned it and took up photography. "There was nothing more to say [through painting]", she recalled. "I was meticulously copying other art, and then I realized I could just use a camera and put my time into an idea instead." Sherman has said about this time: "One of the reasons I started photographing myself was that supposedly in the spring one of my teachers would take the class out to a place near Buffalo where there were waterfalls and everybody romps around without clothes on and takes pictures of each other. I thought, 'Oh, I don't want to do this. But if we're going to have to go to the woods I better deal with it early.' Luckily we never had to do that." She spent the remainder of her college education focused on photography. Though Sherman had failed a required photography class as a freshman, she repeated the course with Barbara Jo Revelle, whom she credited with introducing her to conceptual art and other contemporary forms. At college she met Robert Longo, a fellow artist who encouraged her to record her process of "dolling up" for parties. This was the beginning of her Untitled Film Still series. — Wikipedia
In her most well known photography series, Untitled Film Stills, (1977–80), Sherman appears as B-movie and film noir actresses. The series consists of 69 black-and-white photographs. She avoided putting titles on the images to preserve their ambiguity.
She would often pose her heroines as alone, expressionless, and in private. An overarching characteristic of her heroines were those that did not follow conventional ideas of marriage and family. They were rebellious women who either died as that or who were later tamed by society. — Wikipedia
Sherman has continued to work her entire career with series based on using herself as the main character.
You can learn more about Cindy Sherman and her vast bodies of work through some of these titles: