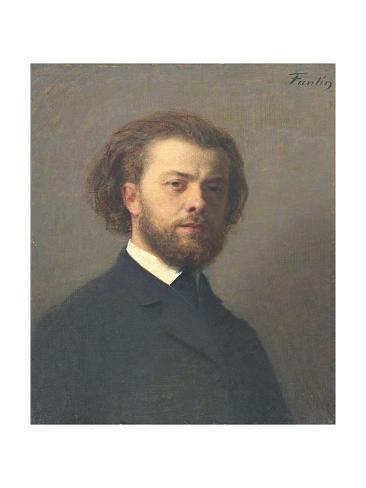 br>
Self-Portrait, by Henri Fantin-Latour
Henri Fantin-Latour was born as Ignace Henri Jean Théodore Fantin-Latour on January 14, 1836 in Grenoble, France.
Known primarily for his still life flower paintings, he also painted the artist, musicians, and writers of his day, Fantin-Latour was a traditional academic painter who was friends with both Whistler and Manet and came into prominence during the time of the Impressionists.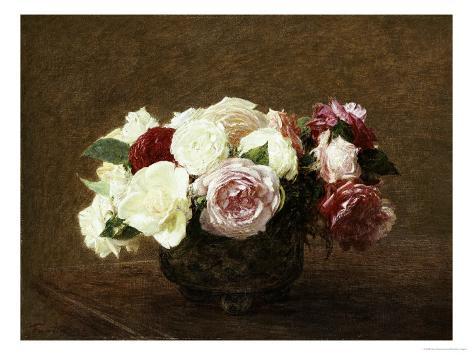 br>
Roses, by Henri Fantin-Latour
Fantin-Latour studied at L'École des Beaux-Arts in Paris from 1854, After leaving school he spent a lot of time copying the works of the old masters in the Musée du Louvre.
He first exhibited at the Salon in Paris in 1861, and in 1862 along with Manet, Legros, Whistler and Jogkind he joined the Societe des Aquafortistes. His painting Feerie was displayed at the Salon des Refuses in 1863. Despite close contacts and friendship with Impressionists, he rejected their theories and never took part in their exhibitions.

His portrait groups, Hommage a Delacroix (1864), The Toast (1865), A Studio in the Batignolles (1870), At the Table (1872), Round the Piano (1885) and others, make up a rich gallery of prominent personalities of his time: artists, poets and musicians. He left, according to Madame Fantin-Latour's catalogue, twenty-three self-portraits. Both his still-lifes and portraits are in the tradition of the realistic manner of the old masters. Fantin's many lithographs and paintings inspired by imaginative themes, reveal his romantic passion for Wagner, Berlioz and Schumann. These works strongly influenced later symbolist painters, such as Odilon Redon.

In 1879 Henri Fantin-Latour was awarded the Legion d'Honneur medal. – Henri Fantin-Latour web site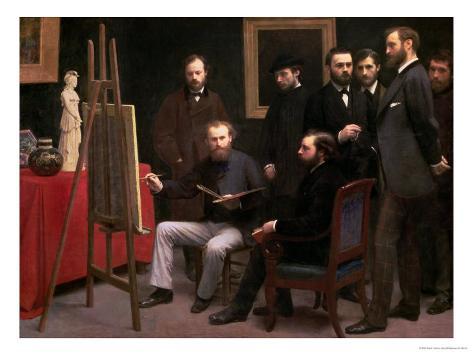 br>
Studio at Batignolles by Henri Fantin-Latour
You can find his work in many museums around the world, including the Art Institute of Chicago, the Hermitage Museum in St. Petersburg, the Metropolitan Museum of Art in New York, the Musée d'Orsay in Paris, the Rijksmuseum in Amsterdam, and the Tate Gallery in London.
Fantin-Latour died on August 25, 1904 in Buré, France.
About his work: In French with subtitles:
Learn more about Fantin-Latour through these titles: