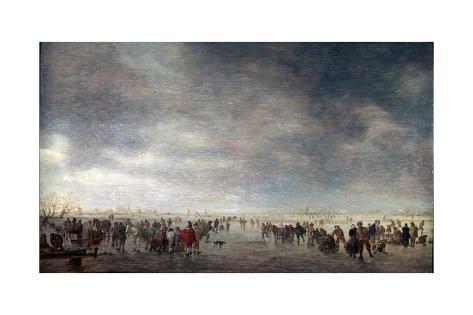 br>
Ice Skaters, 1641, by Jan Van Goyen
Jan van Goyen was born as Jan Josephszoon van Goyen – also spelled Goijen – on January 13, 1596 in Leiden, Netherlands.
van Goyen was a Dutch landscape painter and printmaker (etching) that pioneered naturalistic landscape painting in early 17th-century in Holland.
Jan van Goyen began his apprenticeship at age ten and studied with six different masters. Only one influenced him deeply–Esaias van de Velde, a pioneer of naturalism in Dutch landscape painting. Van Goyen traveled frequently around the Netherlands and visited France. He painted river views and seascapes as well as city views and winter scenes. In 1632 he moved to The Hague, where he remained for life. Until about 1630, Van de Velde's detail, strong spots of color, and crowded compositions influenced Van Goyen's work; afterward, Van Goyen simplified his composition, set the horizon very low, loosened his handling, and let in the light and air. His paintings became tonal: In these monochrome harmonies of light greens and yellow-browns, the atmosphere animates the image.

By the 1650s Van Goyen's colors became more luminous, but he never moved too far from monochrome tonalities. With about 1,200 paintings recorded, plus etchings and drawings, Van Goyen was both highly prolific and highly influential. Despite his other career as a picture dealer, he constantly had financial difficulties and died insolvent because he kept speculating in land, houses, and tulip bulbs. His daughter married the painter Jan Steen. — J. Paul Getty Museum
I found this bit of bio interesting as I've never run across another artist (yet) from that time period who was known to invest in the Tulip Market:
He learned painting under several masters at Leiden and Haarlem and settled at The Hague in 1632. To support his family, he worked as an auctioneer, an appraiser of art, and a real-estate investor. Van Goyen also speculated in tulip bulbs, at that time an exotic item imported from Turkey, and suffered severe losses when the tulip market crashed in 1637. He never recouped his losses, and he died insolvent. — Encyclopedia Britannica
van Goyen died on April 27, 1656 in The Hague, Netherlands.
br>
Landscape, by Jan Van Goyen
Learn more about Jan van Goyen through these titles: