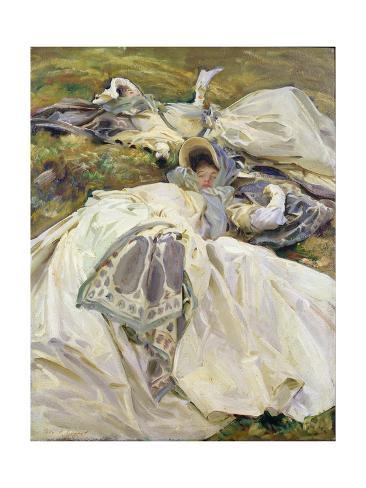 br>
Two White Dresses, by John Singer Sargent
John Singer Sargent was an American artist who was born on January 12, 1856, in Florence, Italy. He is considered to be an American expat artist, even though he was born and lived most of his life in Europe. Most famous for his portraits, he painted over 900 paintings and over 2,000 watercolors. He was a bit prolific.
The first time I saw a Sargent painting was in the National Gallery in Washington D.C. during my art school days.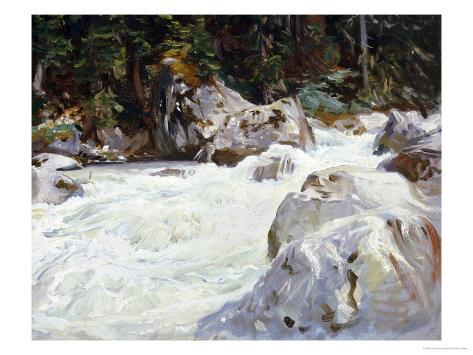 br>
A Torrent in Norway, by John Singer Sargent
One of the things that I love about Sargent's portraits is how he portrays the presence of the person he is painting. They really are the focal point, and the paintings project the fact the the person is very aware that they are being painted, even if they are asleep in a field. Because of the fashion of the day, there was a lot of fabric to paint, and while fabric in the dresses might be an easy part of the painting, he worked the light and shadow and texture so that you can feel it with your eyes when you look at it.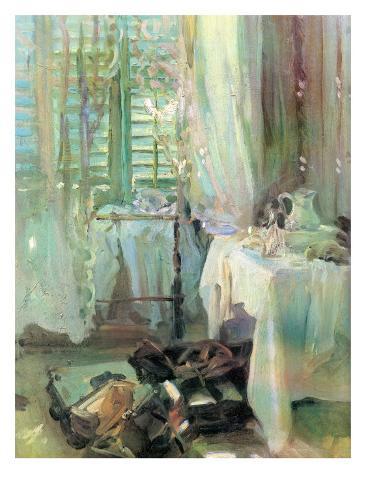 br>
A Hotel Room, by John Singer Sargent
Singer Sargent was considered to be an Impressionist for a short period of time, mostly because of projects he created for a time when he was hanging out at Giverny with Monet, but for most of his career he was considered to be a portraitist more than anything. The work of Spanish painter Velázquez became a strong influence in his studies and his work. Early on, his teacher in Paris was Carolus-Duran who was a leading portrait artist in France at the time. Sargent started studying with him in May 1874. Carolus-Duran encouraged his students like Sargent to study works by artists who expressed freedom in their painting – Rembrandt, Hals, van Dyck, etc. – you can see the paint and see the brushstrokes.
Between the years 1876 to 1879 he traveled to see art, to study other artists' work in museums and studios in both the United States and Europe.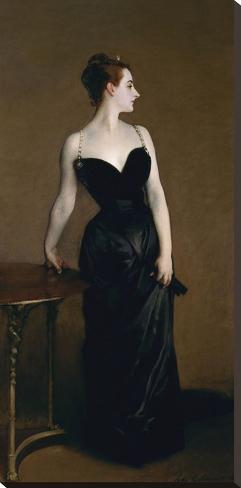 br>
Madame X (Madame Pierre Gautreau), 1883 by John Singer Sargent
Sargent did well at the Paris Salons between the years of 1877 to 1872, until Madame X. Madame Xwas one of Sargent's finest paintings/portraits – and it caused a scandal when he entered it in the Paris Salon of 1884 because all really great paintings caused scandals at the Paris Salon. This particular painting of Sargent's implied indecency – the plunging neckline, the haughty pose of Madame Gautreau, and the strap of the gown that was originally painted off the shoulder, the black of the dress against the milky white skin. It caused such a scandal that many historians think it was the reason Sargent moved to London. It may have been part of the reason, but not the whole reason. But this painting was one of his favorites and he kept it displayed in his studio until he sold it to Metropolitan Museum of Art in 1916 after moving to the United States.
John Singer Sargent: A collection of 748 paintings:
Sargent died on April 14, 1925, in London, England.
John Singer Sargent has a web site.
I've told you a little bit about Sargent and his work. Enjoy learning a bit more about John Singer Sargent by looking through and reading some of the titles below: