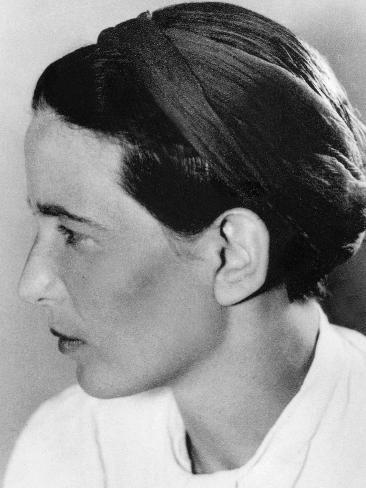 br>
Simone De Beauvoir
Simone de Beauvoir was born as Simone Lucie Ernestine Marie Bertrand de Beauvoir on January 9, 1908 in the 6th arrondissement of Paris, Paris, France.
de Beauvoir was a French writer, intellectual, existentialist philosopher, political activist, feminist and social theorist. Though she did not consider herself to be a philosopher, she had a significant influence on both feminist existentialism and feminist theory.
In the chapter "Woman: Myth and Reality" of The Second Sex, de Beauvoir argued that men had made women the "Other" in society by application of a false aura of "mystery" around them. She argued that men used this as an excuse not to understand women or their problems and not to help them, and that this stereotyping was always done in societies by the group higher in the hierarchy to the group lower in the hierarchy. She wrote that a similar kind of oppression by hierarchy also happened in other categories of identity, such as race, class, and religion, but she claimed that it was nowhere more true than with gender in which men stereotyped women and used it as an excuse to organize society into a patriarchy. — Wikipedia
br>
Philosopher Writer Jean Paul Sartre and Simone de Beauvoir Taking Tea Together
On that note, her greatest relationship was with the philosopher Jean Paul Sartre. She entered into a soul partnership with him – though they never married and she chose never to have children, nor did they live together and they weren't exclusive – that lasted for 51-years, until Sartre's death in 1980.
de Beauvoir passed away of pneumonia on April 14, 1986 in Paris, France and is buried in the cemetery at Montparnasse next to her partner in life, Jean Paul Sartre.
Learn more about Simone de Beauvoir on Wikipedia.
Learn more about Simone de Beauvoir and her ideas through her books: