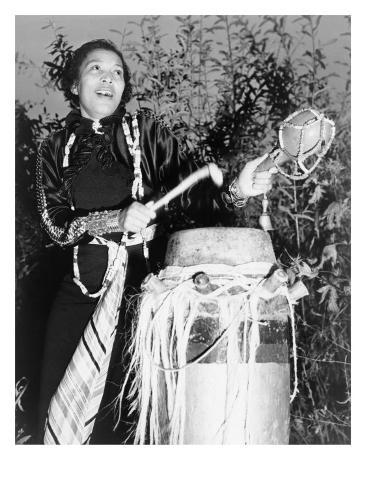 br>
Zora Neale Hurston, African American Author and Folklorist, Beating the Hountar, or Mama Drum, 1937
Hurston was an American author, anthropologist, and filmmaker. Her work focused on racial struggles in the early-20th-century American South and contemporary issues of the 20th century black community. The most popular of her four novels is Their Eyes Were Watching God, which was published in 1937 and she also wrote more than 50 short stories, plays, and essays.
Zora Neale Hurston was born on January 7, 1891 in Notasulga, Alabama to John Hurston and Lucy Ann Potts and moved with her family to Eatonville, Florida, one of the first all-black towns incorporated in the United States, in 1894. Eatonville was a place where African Americans could live as they pleased, and be independent of white society. In 1901, when Hurston was 10-years old, a few schoolteachers from the north had visited Eatonville and given her a number of books that opened her mind to the world of literature. Hurston lived the rest of her childhood in Eatonville, and described the experience of growing up there in her 1928 essay, How It Feels To Be Colored Me. She later used Eatonville as the setting for many of her stories.
Hurston spent her life writing about the black experience of her time – everything from folk tales to slavery to culture in general, She worked odd jobs where and when she could find work, but also found the means through grants and patronage to travel to do her research, and produce her performances.
Hurston died of a stroke on January 28, 1960 at the SLC Agape Seniors Rec Center in Fort Pierce, Florida. Her remains were in an unmarked grave until 1973, when novelist Alice Walker and fellow Hurston scholar Charlotte D. Hunt found an unmarked grave in the general area where Hurston had been buried and they decided to mark it as hers. Walker placed a marker here, which was inscribed "ZORA NEALE HURSTON / 1901– – -1960 /"A GENIUS OF THE SOUTH" / NOVELIST, FOLKLORIST / ANTHROPOLOGIST /". Hurston changed the year of her birth when she wanted to qualify for a free high-school education at Morgan College, the high school division of Morgan State University. After graduating she kept the year of her birth as 1901.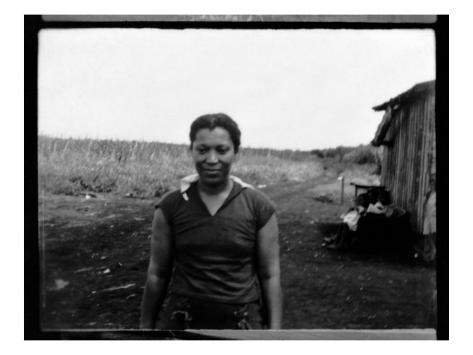 br>
Zora Neale Hurston, Belle Glade, Florida, 1935
Read a more in-depth biography of Zora Neale Hurston on Wikipedia.
Learn more about Zora Neale Hurston in the titles below: