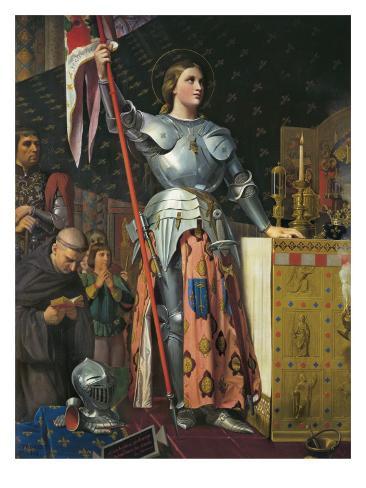 br>
Joan of Arc at the Coronation of Charles VII by Jean-Auguste-Dominique Ingres
Joan of Arc was born on January 6, 1412 in Domrémy-la-Pucelle, France.
Nicknamed "The Maid of Orléans", Jeanne d'Arc is considered to be a heroine of our favorite country of France for her role during the Lancastrian phase of the Hundred Years' War. She was canonized as a Roman Catholic saint on May 16, 1920.
Joan of Arc came from an obscure little village and rose to fame while she was an uneducated, teenaged, peasant. At the age of 13, in 1425, she was in her father's field when she saw the visions of Saint Michael, Saint Catherine, and Saint Margaret, who told her to drive out the English and take the Dauphin to Reims for his consecration.
At the age of 16, she asked a relative named Durand Lassois to take her to the nearby town of Vaucouleurs, where she petitioned the garrison commander, Robert de Baudricourt, for an armed escort to take her to the French Royal Court at Chinon. Baudricourt's sarcastic response did not deter her. She returned the following January and gained support from two of Baudricourt's soldiers: Jean de Metz and Bertrand de Poulengy. According to Jean de Metz, she told him that "I must be at the King's side … there will be no help (for the kingdom) if not from me. Although I would rather have remained spinning [wool] at my mother's side … yet must I go and must I do this thing, for my Lord wills that I do so." Under the auspices of Jean de Metz and Bertrand de Poulengy, she was given a second meeting, where she made a prediction about a military reversal at the Battle of Rouvray near Orléans several days before messengers arrived to report it. According to the Journal du Siége d'Orléans, which portrays Joan as a miraculous figure, Joan came to know of the battle through "grace divine" while tending her flocks in Lorraine and used this divine revelation to persuade Baudricort to take her to the Dauphin. — Wikipedia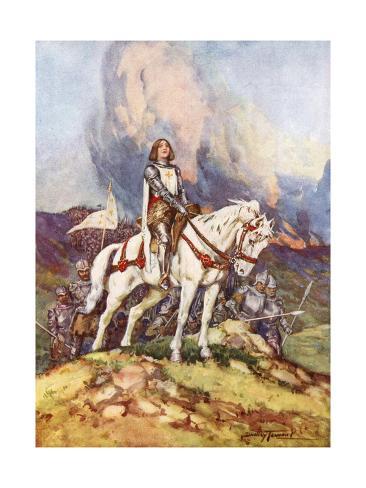 br>
Joan of Arc, the Country Girl Who Led a King to Victory by C Dudley Tennant
Joan's first meeting with Charles took place at the Royal Court in the town of Chinon in 1429, when she was aged 17 and he 26. After arriving at the Court she made a strong impression on Charles during a private conference with him. During this time Charles' mother-in-law Yolande of Aragon was planning to finance a relief expedition to Orléans. Joan asked for permission to travel with the army and wear protective armor, which was provided by the Royal government. She depended on donated items for her armor, horse, sword, banner, and other items utilized by her entourage. Historian Stephen W. Richey explains her attraction to the royal court by pointing out that they may have viewed her as the only source of hope for a regime that was near collapse: … Only a regime in the final straits of desperation would pay any heed to an illiterate farm girl who claimed that the voice of God was instructing her to take charge of her country's army and lead it to victory — Wikipedia
She spent two years fighting in a number of battles for the French before her capture. But before that happened, she succeeded in her divine task of getting the Dauphin to Reims for his consecration.
Jeanne d'Arc was captured by the Burgundians then sold to the English and died on May 30, 1431, at the age of 19 in Rouen, France – the base of the English in France at the time. She was burned at the stake after a politically motivated trial, in the end for what amounted to her biblical crime of cross-dressing.
Her trial and conviction were overturned posthumously on July 7, 1456 after a retrial which involved a panel of theologians from across Europe and the testimony of 115 witnesses.
You can learn more about Joan of Arc in these titles: