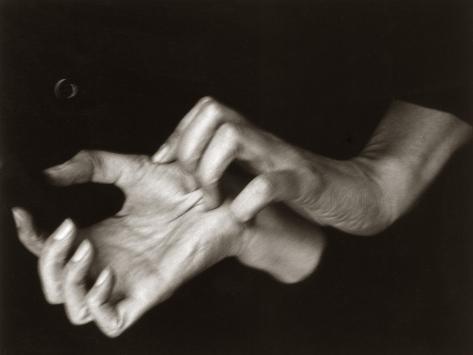 br>
Hands of Georia O'Keefe
Alfred Stieglitz was born on January 1, 1864, in Hoboken, New Jersey to German Jewish immigrants. His story is one of the beginnings of photography as an art form, images saturated in light, taken with an artistic eye. His entire life was about photography and art and the art of photography. He supported not only other worthy photographers of his day, like Steichen and Strand, and took an interest in Adams and Weston too, but he was also interested in supporting other artists, painters, like Marsden Hartley, John Marin, Max Weber, Arthur Dove, and Georgia O'Keeffe. He was not only a photographer, but also a writer, publisher, curator, and artist.
Stieglitz was an American photographer who spent most of his career working at making photography an accepted art form. He was a self-taught photographer (as most photographers were in those days) and picked up his first camera while living in Germany with his parents as a teenager. While still in school in Berlin, he studied with a chemist, Hermann Wilhelm Vogel, who worked on the chemical processes for developing photographs, which also technically inspired him. After his parents returned to the United States, he stayed in Germany, then traveled through Europe capturing images of the life he experienced. During this time he also wrote for The Amateur Photographer.
He returned to New York in 1890 for family reasons. During the years 1891 to 1901 he came home to his father purchasing a photography business for him, he married a wealthy woman he didn't love and ended up resenting her, and created The Camera Club of New York, of which he became vice-president. During this time he was also writing about the art of photography and turned the club's newsletter into a magazine called Camera Notes. The Camera Club gave him his first big show in 1899 and in 1901, he met fellow artistic photographer Edward Steichen at the First Chicago Photographic Salon. These last two years of this time period kept Stieglitz overworked, in arguments with other members of The Camera Club over the handling of club issues, while preparing for his exhibition and still publishing Camera Notes. At the end of it, he retreated to Oaklawn, his family house on Lake George to recuperate.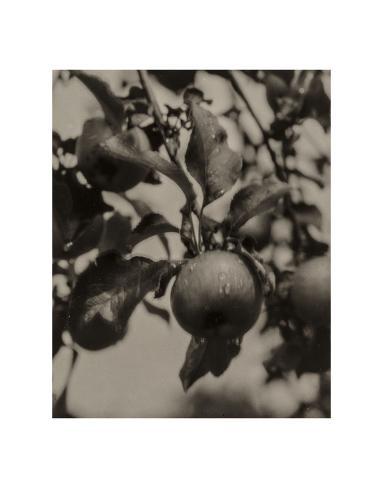 br>
Apple and Drops of Rain, Lake George, 1922
After returning to New York he was encouraged to curate a photographic exhibition, one which he would have full control of what was shown. In December 1901, he was invited by Charles DeKay of the National Arts Club to put together such an exhibition and within two months Stieglitz had assembled a collection of prints from a close circle of his friends, which, in homage to the Munich photographers, he called the Photo-Secession. With this name, Stieglitz was declaring his independence from The Camera Club as well as the independence of photography from the restrictions of social expectations. The exhibition in March 1902 was an instant success.
In the years 1902-1907, Stieglitz went off on his own while still keeping his circle of respected photographers around him. It was a hectic and energetic time, where everything seemed to come together for him and for those close to him. It was during this time, the summer after the successful Photo-Secession, that he resigned as editor of Camera Notes and began a new publication, Camera Works (published between the years 1903 and 1917), where he demanded high quality images and production for the magazine which focused on the visual, rather than the technical aspects of photography. He worked himself into exhaustion, also holding exhibitions while publishing the magazine.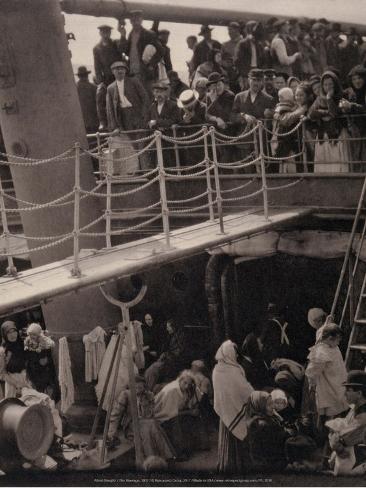 br>
The Steerage, 1907
The famous image above, The Steerage, was taken while traveling with his family (wife and child, governess in tow) to Europe.
1917 was a pivotal year for Stieglitz where his priorities were shifting and his life had been affected mostly my World War I, and, the meeting of Georgia O'keefe.
World War I was affecting the American economy, where art for the walls became an extreme luxury. Also, his magazine, Camera Works, had relied on having the prints made in Germany which was no longer possible. While he did publish in fits and starts during the war years, he stopped printing in October 1917 until the after the war ended in 1918.
Many of us probably know of Stieglitz as the photographer who was married to Georgia O'Keefe.
It was in 1916 that Stieglitz had his first encounter with Georgia O'Keefe was when she came to the gallery to give him a talking to about showing her work without her knowledge or consent. It was the beginning of a life long love affair, though not what anyone would consider an every day kind of relationship. Georgia O'Keefe spent much of her time in New Mexico, painting, and Stieglitz spent most of his time in New York. They married in 1924 and remained married until his death. Their relationship is difficult to write about, because no one really knows, except for them, what it was really all about.
Stieglitz died on July 13, 1946, in Manhattan, New York, New York after a series of heart problems and a stroke. Georgia O'Keefe was with him when he left.
His legacy is not only the body of work he left behind, but also the inspiration to aspiring photographers who are also artists.
You can find out so much more about Alfred Stieglitz in his Wikipedia bio.
Enjoy learning more about Stieglitz's work through these titles: