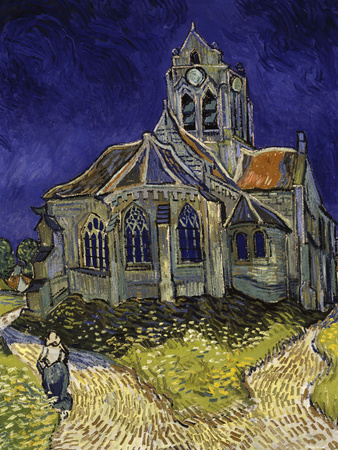 You will see clearly that to come to an understanding of a country and its way of life, to see other countries, is all to the good. — Vincent Van Gogh – May 1890, upon his arrival in Auvers-sur-Oise
Visiting with a dead man. I seem to be visiting as many dead people on this journey as live ones. Louis XVI and Marie Antoinette. Victor Hugo and Emile Zola. Voltaire. Jim Morrison … Vincent sleeps next to his brother Theo in the tiny cemetery of Auvers. Their graves covered in ivy and marked by flowers that dedicated souls have brought to him as gifts. Symbols of life in a really dead place. It's hard to imagine Vincent lying dead in there, that he is something more than just this stone marking the spot. His vibrant work is alive in the fields and people and homes of this little town next to the river Oise. His work lives in museums and collections around the world. He is known in this town by only one name — Vincent.
Auvers is very beautiful. There is among other things a lot of old thatch, which is getting rare. One is far enough from Paris for it to be real country, but nevertheless how changed since Daubigny; but not changed in an unpleasant way – there are many villas and various bourgeois dwelling-houses very radiant and sunny and covered with flowers. — Vincent Van Gogh, May 1890
The town and the cemetery are surrounded by the fields of his paintings. La Plaine d'Auvers, La Plaine pres d'Auvers (avec ciel nuageux), Champ de ble aux corbeaux, and all of the others in my little book of Van Gogh paintings. Leaving the cemetery and walking down the road towards town, the first thing visible is the steeple of L'eglise de Notre Dame d'Auvers-sur-Oise.
Arriving at the church itself I find the exact replica of Van Gogh's painting that is hanging in the Musee d'Orsay in Paris. Although, this replica is in stone and glass and has lived in the elements and has been touched and used by the townsfolk long since the painting was put away in a sterile room next to other canvases of equal caliber. As we enter the church there is a music rehearsal underway – voice and piano and a spotlight.
After listening for a moment, we walk outside, my friends K., A. and I, to wander around the church and to regard its stone and angles and structure. It is no wonder that Van Gogh painted this place. Vincent had a way of seeing the life in what the most people thought of as just an inanimate object. After viewing the painting he did of this church, I can now see the energy in the walls of the building flowing through the veins underneath its skin of stone. We stop for a photo before we continue down the stairs and down the street in the direction of l'Office de Tourisme.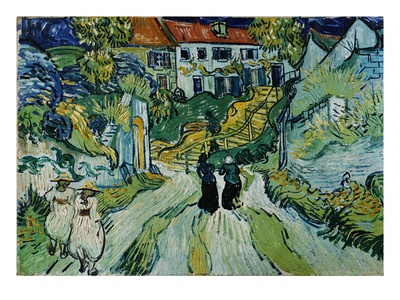 Auvers is a very small town. We walk down its well marked streets. Everything relating to Vincent is marked by a sign, an arrow, a pointing in this direction or that. After passing l'Office de Tourisme and moving on to the La Maison Van Gogh, we turn to look up the street in which we just came down. In front of us is the view of the painting L'escalier d'Auvers (avec cinque figures), except there now are not five figures, but the three figures of us. Everywhere we look we could put ourselves into one of his paintings.
I am now quite absorbed by the immeasurable plain with cornfields against the hills, immense as a sea, delicate yellow, delicate green, regularly chequered by the green of the flowing potato plants, everything under the a sky with delicate blue, white, pink, violet tones. I am in a mood of nearly too great calmness, in the mood to paint this. — Vincent Van Gogh, July 27, 1890
We stop in the cafe across the street from the Auberge Ravoux for a little coffee. K. orders an espresso. I order a Cafe Creme. A. orders a Noisette. I find that the names of the coffee drinks are according to the color they produce. Espresso is black. Cafe Creme has a creamy color and a Noisette, which means 'nut' is not a nutty coffee, but the color of a small toasted nut. We stare out the window at the Auberge Ravoux. We watch as other pilgrims walk down the street. After we finish our coffees, we stop into the patisserie for pastries, and go across the street to the Jardin Van Gogh. We sit on the park bench and take pictures while we eat our croissants.
Auvers is not only the town of Vincent. It is also the town of Daubigny and through him Corot and Daumier. And by the way of Dr. Gachet, it was also a town of Cezanne, who painted many paintings here, sometimes with his artist friend Pissaro. And many artists currently call it home, some of them living in the same obscurity, boredom and loneliness that Vincent himself experienced in this little place. But it seems as if it is Vincent that the town pays homage to.
The leaves have turned and have begun to fall on the ground. Brilliant yellows and oranges and reds have started to turn to brown. The air smells crisp of autumn. Vincent lived in this town a mere 70 days – the last 70 days of his life. 70 days in which he painted some of the most intriguing canvases of his career. 70 canvases in all from this period. This is the town where he met and befriended Dr. Gachet. Where he painted the energy of the thatched roofs, the fields, the buildings, the corn, the people and the spaces in between. Where he experienced the loneliness that comes from awareness. What he saw, he painted. What he felt, he painted. What he understood, he painted. And because he couldn't live with what he understood, what he knew, what he felt, he understandably, left.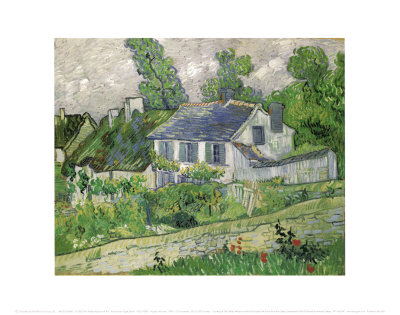 …but we are still far from the time when people will understand the curious relations which exist between one fragment of nature and another, which nevertheless explain each other and set each other off. Some, however, feel this silently, and that is something. …
— Vincent Van Gogh, July 27, 1890