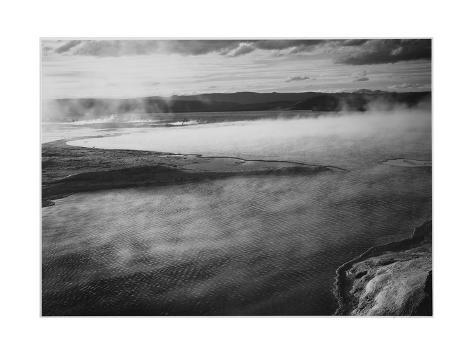 Fountain Geyser Pool Yellowstone NP, Wyoming 1933-1942, by Ansel Adams
Ansel Easton Adams was born on February 20, 1902, in the Western Addition of San Francisco in California.
Ansel Adams is known as one of the most famous black and white landscape photographers of the American West. His work as a landscape photographer was entwined with his work as an environmentalist. Adams was into the idea of "pure" photography – where the entire gray scale was represented in each photograph and the focus was sharp as a tack. He started the photography group f/64 with members adhering to the pure photography concept with the added goal of elevating photography into an aesthetic art form. Members of the group included Edward Weston and Imogen Cunningham. Adams spent some time as the photographer for the National Park System and later developed the Photography Department and The Museum of Modern Art.
Adams died on April 22, 1984, in the Bariatric Surgery Center at Community Hospital of the Monterey Peninsula in Monterey, California.
You can read more about Ansel Adams – with a link to f64 – on Wikipedia.
You can see more of the work of Ansel Adams in the titles below: