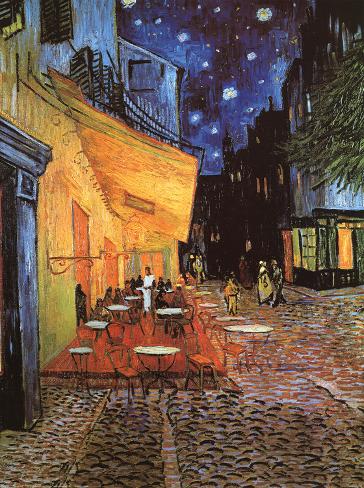 br>
The Cafe Terrace on the Place du Forum, Arles, at Night,, by Vincent Van Gogh, c.1888
I am here, both now and in the future, sitting on the terasse at the Cafe La Nuit in Arles. My table this night is almost the same table where I sat when on my first visit to the cafe, four and a half years before. You can see my table – it's the one with the waiter standing next to it in the painting. Four years ago the little Place du Forum was quiet, tranquil, and there were only two cafes open. That evening seems long ago now, and was a magical warm fall night with a full moon shining through the big old tree that graced the square. The leaves of the big old tree are in the painting too.
The big old tree is no longer there. The owner of The Night Cafe told me that it fell ill and had to be removed. The atmosphere of the square is now so different. Now the square is full of much younger smaller trees and the Place du Forum is bustling with evening activity. The cafes have moved their boundaries of tables out onto the square to form much larger terasses than in days past. The only way to know that one cafe has ended and another began is to look at the color of their awnings and tablecloths. Each cafe is a different color. Today, the cafe next door on the right side of Cafe la Nuit is red and the one on the left is a beautiful pistachio green.
As the sun sets over the buildings on the other side of the square, the sky glows in the eventide. That time just after the sun rests below the horizon. For just a moment the sky is that incredible color of cobalt blue that only seems to exist with the setting of the sun in the South of France.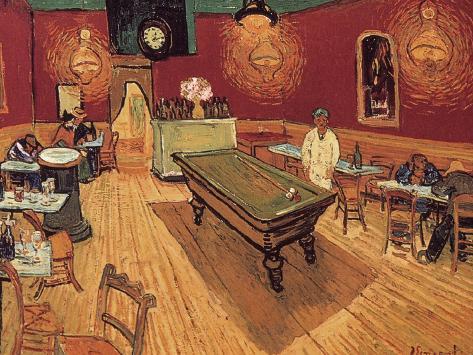 br>
The The Night Cafe, by Vincent Van Gogh, c.1888
Today I am probably going to begin the interior of the cafe where I eat, by gaslight, in the evening. It is what they call here a cafe de nuit, staying open all night. Night prowlers can take refuge there when they have no money to pay for lodging, or are too tight to be taken to one. — Van Gogh, from Dear Theo
Note: Originally posted in May of 2005.