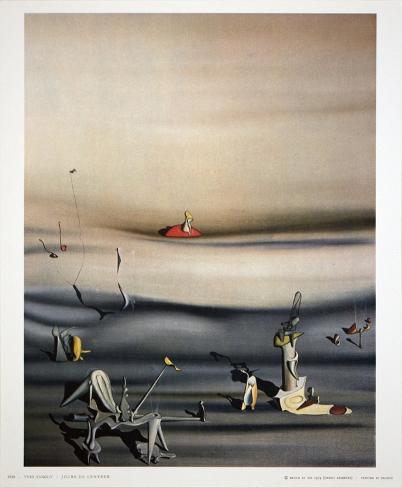 br>
Jours de Lenteur by Yves Tanguy
Tanguy's paintings have a unique, immediately recognizable style of nonrepresentational surrealism. They show vast, abstract landscapes, mostly in a tightly limited palette of colors, only occasionally showing flashes of contrasting color accents. Typically, these alien landscapes are populated with various abstract shapes, sometimes angular and sharp as shards of glass, sometimes with an intriguingly organic look to them, like giant amoebae suddenly turned to stone. — Wikipedia
Yves Tanguy was born as Raymond Georges Yves Tanguy on January 5, 1900 in Paris, France. Both of his parents were from Breton.
Tanguy had no formal training in art although his art did develop quickly and his surrealistic style emerged by 1927.
He was inspired by Giorgio de Chirico's work when he first saw it in 1923, during the time after he returned from his travels when he briefly joined the Merchant Navy before being drafted into the Army – from 1918 he traveled to Africa, South America, England, and Tunis, after which he returned to Paris and started sketching in the cafes.
In 1924, he, poet Jaques Prévert, and actor/screenwriter Marcel Duhamel, two friends who served with him, moved into a house in Paris that was to become a gathering place for the Surrealists. Tanguy became even more interested in Surrealism after seeing a copy of La Révolution Surréaliste. André Breton welcomed him into the Surrealist group in 1925.
His first solo show was held in 1927 at the Galerie Surréaliste in Paris. Later this year, he also married his first wife Jeannette Ducroq.
In 1928 he participated with Jean Arp, Max Ernst, André Masson, Joan Miró, Pablo Picasso, and others in the Surrealist exhibition at the Galerie au Sacre du Printemps in Paris.
He exhibited extensively during the 1930s in solo and Surrealist group shows in New York, Brussels, Paris, and London.
In 1939 Tanguy met the painter Kay Sage, an American Surrealist artist and poet, while she was in Paris and later that year he traveled with her to the American Southwest. Sage and Tanguy married on August 17, 1940, in Reno, Nevada, after he obtained a final divorce from his first wife Jeannette Ducroq. They settled in Woodbury, Connecticut. Their relationship was deep, but tumultuous, as he was known to be abusive towards her (found on her Wikipedia page).
Tanguy passed away from a stroke on January 15, 1955 in Woodbury, CT